How to tenderize beef/pork for stir fry and taste as juicy and tender as in a Chinese restaurant. I've interviewed many chefs and cooks in Chinese restaurants. They usually use the following 4 methods. This is also my experience after many trials, which I share here with everyone. Usually, this method to tenderize beef/pork is called "velvet beef/pork". Besides these 4 methods, the right way to cut beef/pork is also an important factor.
Also, learn how to tenderize chicken for stir fry here (Velvety Chicken).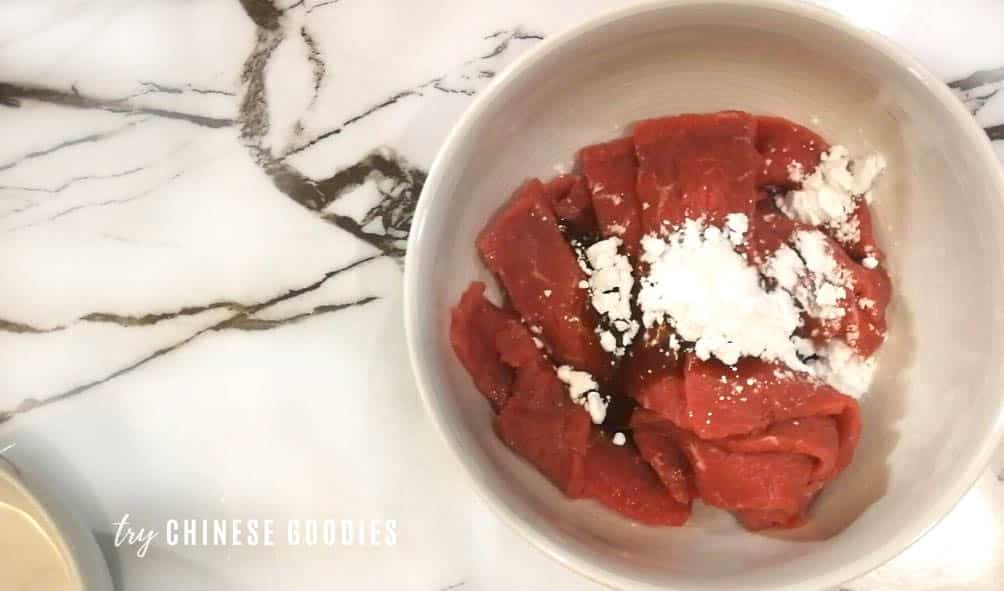 The proper way to cut beef/pork for tender meat.
Cut beef/pork against the direction of the grain to separate the tissue and make it easier to bite, and this is also the point at which the red meat becomes tender.
First, cut across the grain – Always cut beef/pork across the grain and into thin slices. You'll see the long fibers in the meat, for tender meat you should cut across the fibers. The reason for this is that you'll separate the fibers and the meat will be easier to bite.
If you cut with the fibers, the red meat will be tough because the long fibers haven't separated.
To make cutting easier, place the red meat in the freezer for about 20 minutes before cutting.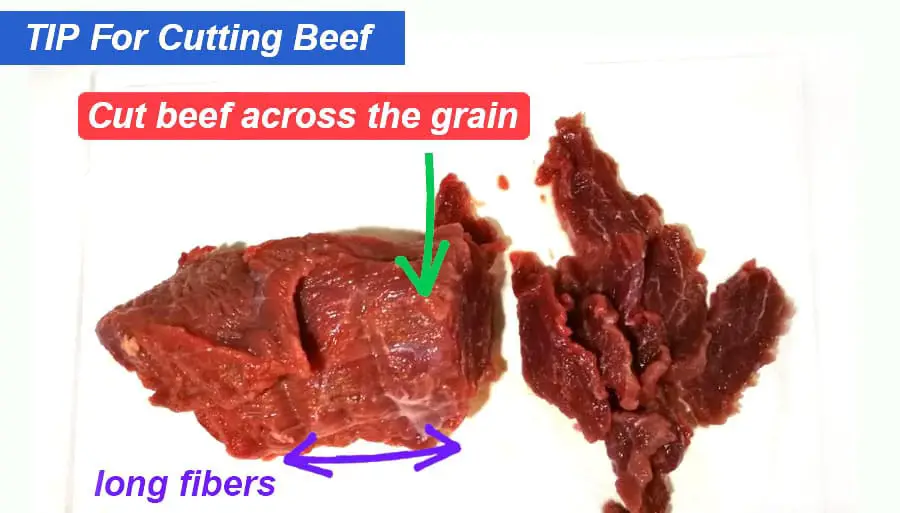 How do Chinese restaurants tenderize meat for stir fry?
The following four methods are commonly used in Chinese restaurants to tenderize beef/pork or red meat for stir-fried dishes:
Baking soda – for 1 lb /450 g beef, 1/4 teaspoon of baking soda is usually enough to soften the beef; if you add too much, the beef will lose its original flavor.

Add cornstarch – The cornstarch is used to seal the marinade.

Whisk an egg – for 1 lb /450 g beef, half an egg is usually enough; for less than 1 lb /450 g, only a tablespoon.

Chemical tenderizer.
Usually, add cornstarch and beaten egg and whisk with baking soda powder to tenderize the red meat. I usually use these three methods together and also recommend this natural method, which is healthier for the body.
PRO TIP: If you want to marinate longer than half an hour or overnight, you should add baking soda and cornstarch 10 minutes before cooking. Don't marinate red meat with baking soda for more than 30 minutes. Otherwise, the red meat will be tough if you add the baking soda for too long.
The dishes that usually use this method: Keto Beef and Broccoli, Beef Stir Fry With Noodles, Szechuan Beef
How to make beef/pork crispy in a stir fry

Add Cornstarch– Before stir fry, dip both sides of the beef (or red meat) in the cornstarch and separate, but let it get wet for pan fry. This step is after marinating the beef.
After dipping, let the cornstarch, rest for 5 minutes before frying. This will help the cornstarch stick to the meat and make it crispier and not come off during frying.
The dishes that usually use this method: MONGOLIAN BEEF, BEIJING BEEF (COPYCAT PANDA EXPRESS)

Don't overcrowd the pan– Place the steak in small portions in the pan and sear on both sides. Fry the steak in 2 batches. Don't stir immediately, wait until the underside is golden brown and then turn it over. This way you get a nice golden brown color and no steaming beef.
What beef is good for stir-frying
Most economic and tender beef cuts, such as sirloin, flank steak, and tenderloin are used most. More expensive cuts (such as filet) can also be used.
More beef for stir fry recipes:
If you want to know how to marinate a steak tender and juicy. Tips you can find in my previous post. There I show you tips and tricks on steak marinades in Asian flavors. And you can also use this marinade for steak sandwiches for your brunch, lunch, or lunchbox.
More Chinese Food Recipes: