Mapo tofu is one of the most popular classic Chinese dishes that every family will make at home. It's so quick and easy, you'll only need 15 minutes to make your quick meal. It's full of garlic, soy sauce and a slight spiciness from the chili bean sauce.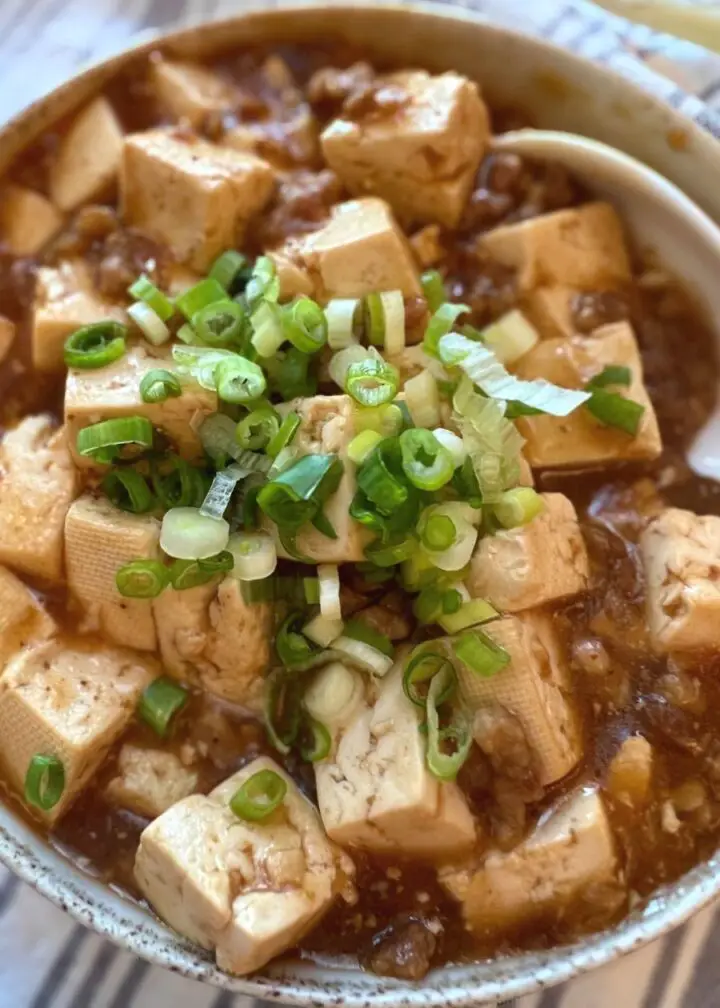 Mapo tofu recipe
My mapo tofu recipe is great for the whole family, even kids. Compared to authentic mapo tofu, it's lower in calories and less spicy. Mapo tofu is steamed minced pork with sauces and tofu. The sauce is the best and makes you want to eat more rice.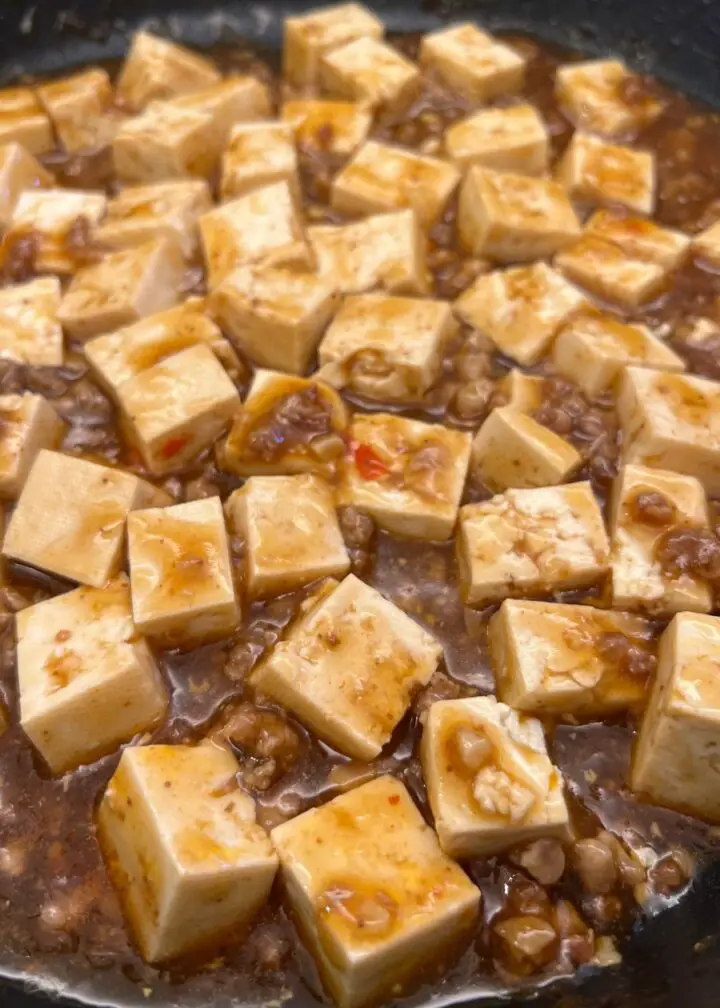 Anna's tips:
Sear ground pork – the first step is to heat the pan over high heat to sear the ground pork until it's golden brown and dry to enhance its flavor. If you're using prepared brown ground pork. You can skip this step. Just heat the ground meat. It'll save more time. You can learn more from How To Brown Ground Pork.
Fry the garlic with oil only to release the garlic flavor.
The tofu can be silken, soft, firm, or extra firm. However, don't add it until after the sauce is done. That way, the tofu won't break as easily when you stir it.
What is Mapo tofu sauce made of?
Its ingredients together consist of Toban Djan, soy sauce, garlic, water, and cornstarch.
The key ingredient for Mapo Tofu (or Mabo Dofu) is Fermented Broad Beans & Soybeans called Toban Djan (豆瓣酱), which lends a whole new dimension to the dish.
What is Toban Djan (Chili bean sauce)?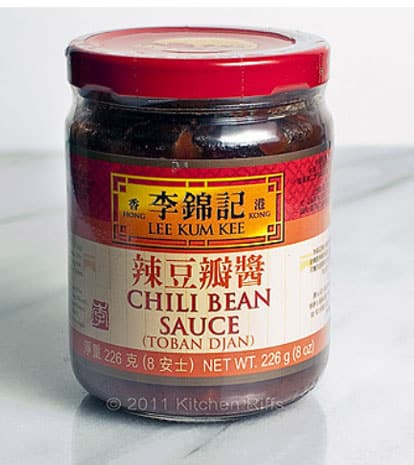 Chili Bean Sauce (Toban Djan; sometimes called chili bean paste; may also be called Sichuan chili bean sauce) is made of salted chile peppers, soybeans, and fava beans (broad beans).
Although there is a spicy hot element to this sauce, the heat is pleasant rather than unbearable.
If you don't have Chinese chili bean sauce, you can use Sriracha sauce or Korean gochujang paste as a substitute.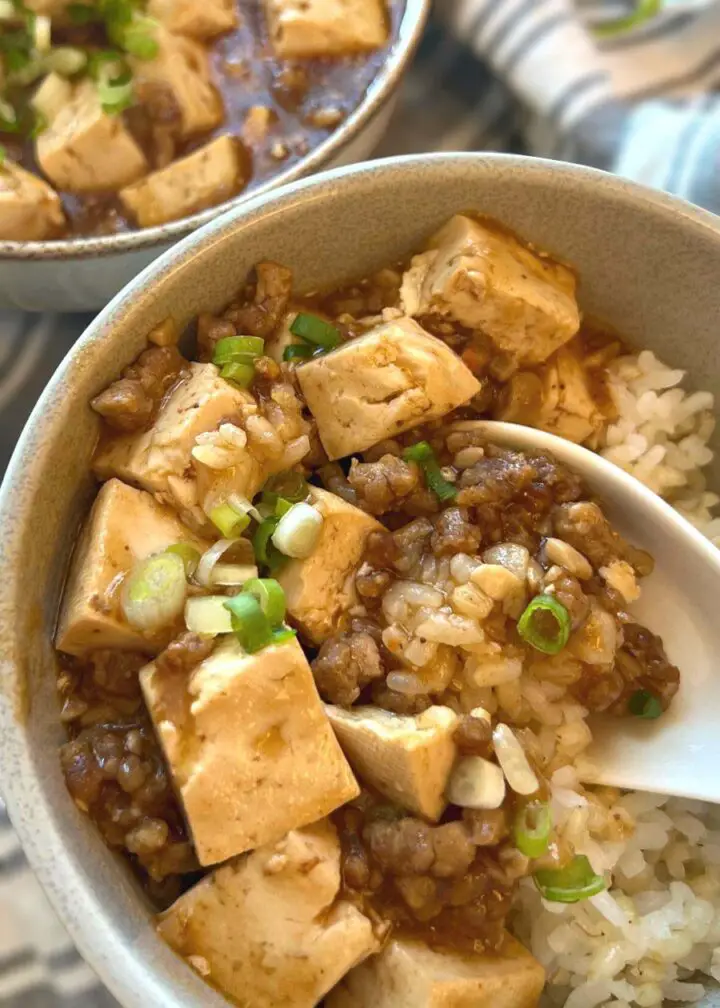 What do you need:
4 ounces ground meat (240 grams)
14 oz silken/soft tofu (396 g)
4 cloves garlic
2 tablespoons soy sauce
1 teaspoon ground Sichuan peppercorns
2 scallion
1/2 teaspoon sesame oil (optional)
How to make:
This recipe is super simple with just 5 easy steps: whisk sauce ingredients together, sauté the aromatics, stir fry the ground pork, add sauce, tofu, and simmer.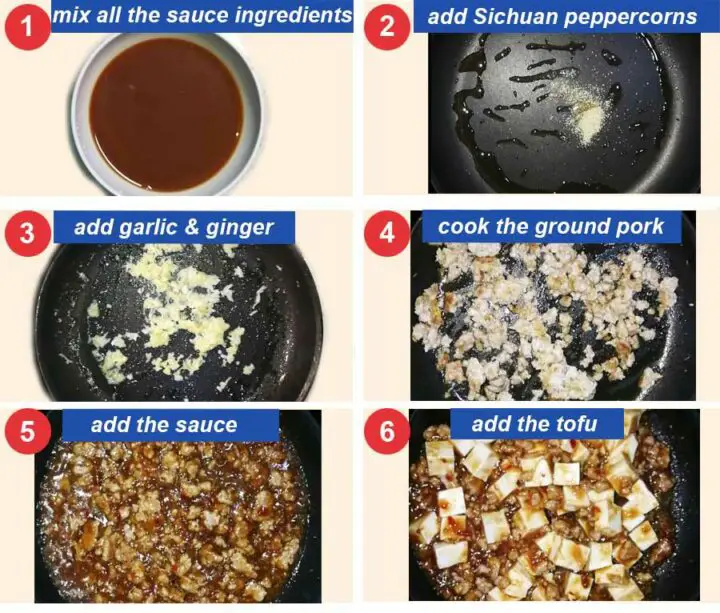 What tastes good with Mapo tofu?
More pork mince recipes:
Watch how to make: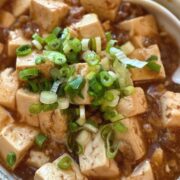 Mapo Tofu (Mince & Tofu in Spicy Sauce)
Print
The authentic Mapo Tofu recipe is simple-stir fry silken tofu and ground pork simmered in a soy, chili bean sauce, garlic and ginger sauce. My Mapo tofu recipe is incredibly flavorful but less spicy and oily.
Ingredients
Mapo Tofu Sauce
2/3

cup

water

2

teaspoon

Toban Djan,

(Chili Bean Sauce)

1 1/2

tablespoon

cornstarch
Stir Fry:
4

ounces

ground meat (240 grams)

14

oz

silken/soft tofu (396 g),

drained and cut into 1/2-inch cubes

4

cloves

garlic,

minced

2

tablespoons

soy sauce

1

teaspoon

ground Sichuan peppercorns

(Note 1)
Seasoning
2

scallion,

sliced

1/2

teaspoon

sesame oil

(optional)
Instructions
Mix the sauce- Combine all the sauce ingredients in a medium bowl and stir until fully combined. Set aside.

Cook the ground pork– Add the ground meat and stop stirring until the bottom is golden brown (about 2~3 minutes). Stir until everything is golden brown, and transfer to a plate. Set aside. (Note 2)

Sauté the aromatics- Add garlic to the pan and sauté for 1 minute until fragrant. (Note 3)

Add the sauce- Add all sauce ingredients and let it come to a boil. Let this simmer for a minute. (Note 4)

Add the tofu- Add the tofu and coat the sauce until the flavors soak in for 2 minutes. Stir gently 2 to 3 times. (Note 5)

Add seasoning- Add the green onions, stir to combine everything, and cook for a final 20-30 seconds.

Serve – Add the green onions and sesame oil and serve with rice
Video
Tips & Notes:
If you like it spicier, you can add ground Sichuan peppercorns (optional). This authentic Chinese mapo tofu flavor.
It's important that you fry the ground meat over high heat until it's golden brown and dry to enhance its flavor. You'll need to preheat the pan over high heat. Once you add the ground beef to the pan, don't stir it. Let it fry on high heat until the bottom is golden brown.
Fry the garlic with oil only to release the garlic flavor.
The cornstarch we used is for thickening the sauce. If it doesn't thicken enough, add 1 tablespoon of cornstarch to 1 tablespoon of cold water, stir to dissolve the cornstarch, and add it to the pan.
The tofu can be silken, soft, firm or extra firm. You have to stir gently so the tofu doesn't break easily when you stir it. And the bottom won't get burnt.
DID YOU MAKE THIS RECIPE?
I love hearing how it turned out! Leave me a comment and make sure to leave a rating below.
More Chinese take-out recipes: