*The easiest Lo Mein recipe you will ever make in 20 minutes TOTAL from start to finish.
*It is so much tastier, healthier, and less oily than chow mein!
*It's simple to make vegetable lo mein, add your favorite meat you like!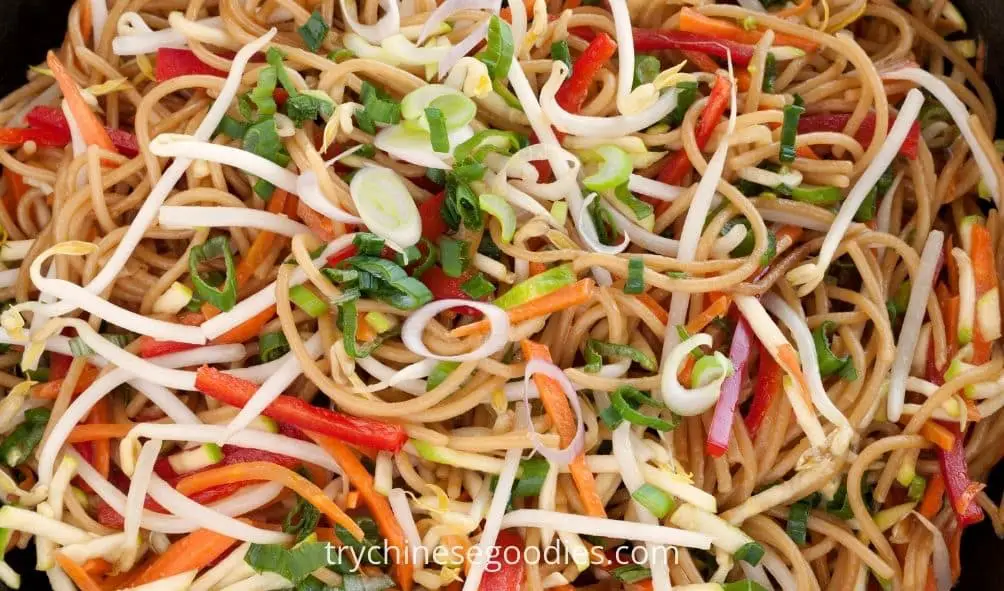 What is Lo Mein?
It is a Chinese dish with egg noodles.
Lo means 'tossed', Mein or Mian is simply the Chinese word for noodles.
It's usually tossed with meats, seafood, cabbages, carrots, bean sprouts, egg, or any other ingredients you like.
The flavor goes well by mixing soy sauce, oyster sauce.
What Are The Ingredients?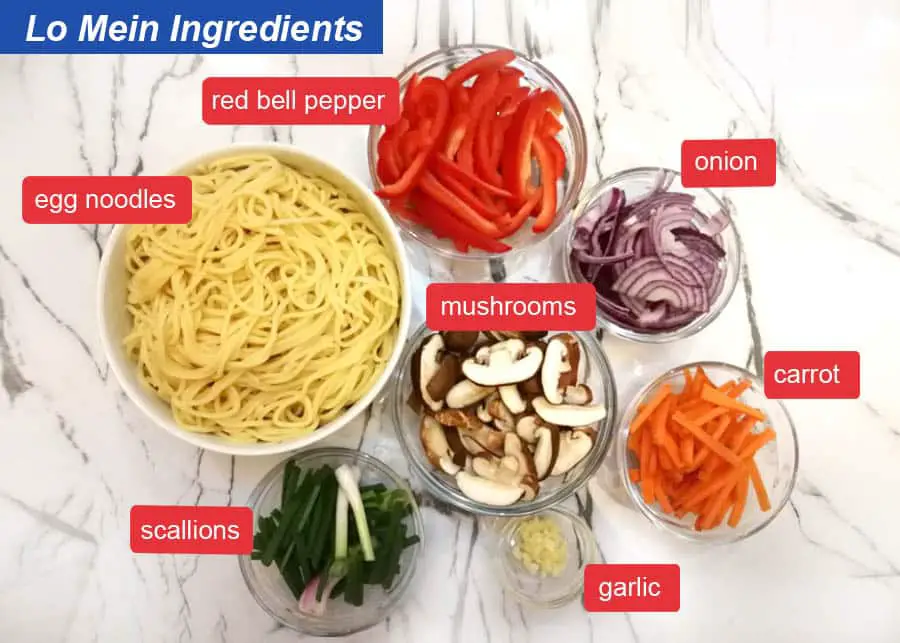 How to Make The Sauce?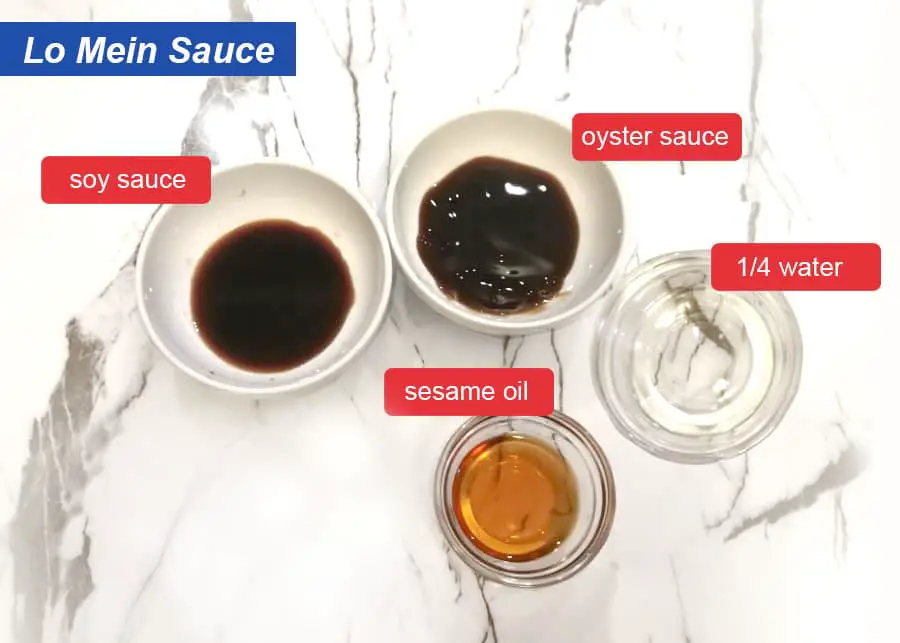 What Are the Lo Mein Recipe Instructions?
The cooking is unbelievably easy. Once you've cooked the noodles, you need to:
Saute the aromatics
Briefly cook the veggies
Toss in the boiled noodles
Add the sauce and toss it again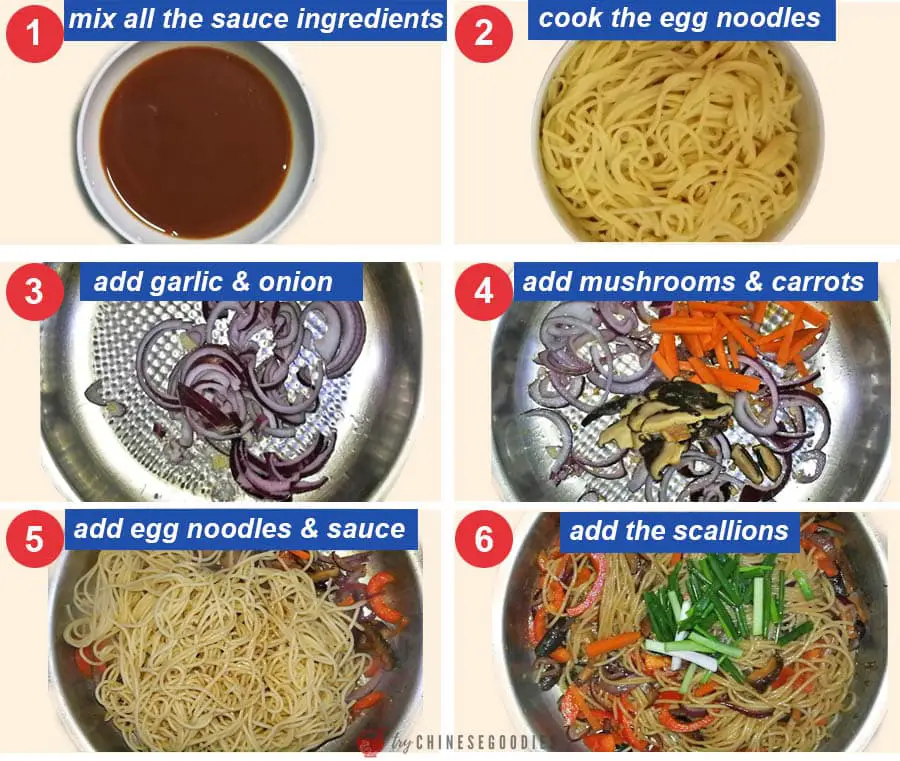 Can I Use Spaghetti Noodles?
You can totally make it with any noodles – ramen noodles, spaghetti, linguine, fettuccine, or even angel hair. They are great substitutes.
What Are The Tips For Making This Recipe Perfectly?
To keep your noodles from sticking before adding to the pan, add them back to their pot after draining and toss them with a little sesame oil or cooking oil.
Preheat the pan before adding the oil and vegetables. This will help prevent the veggies from sticking to the pan.
Taste and adjust seasoning if needed before serving.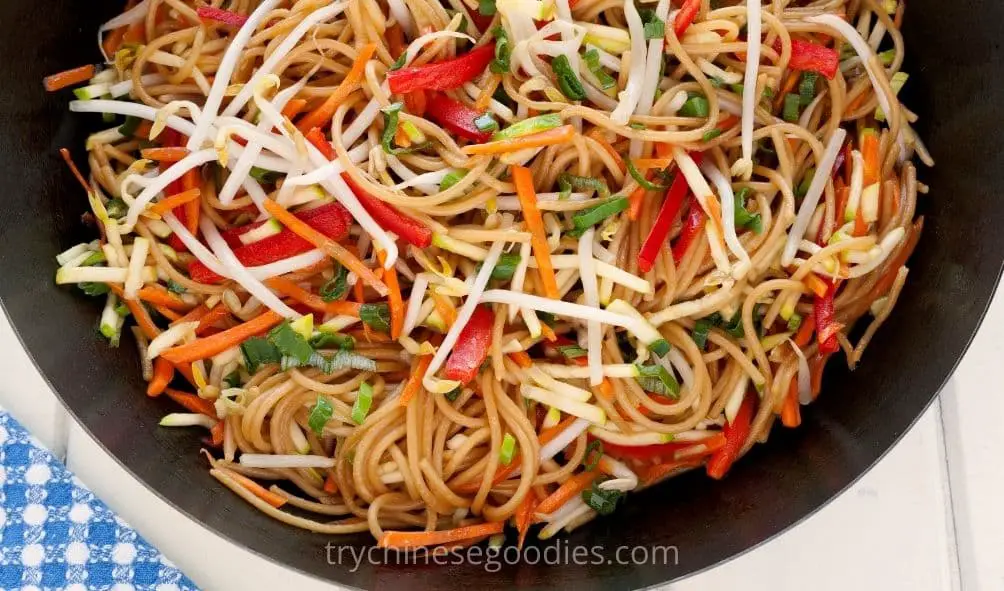 What Do You Serve With?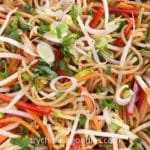 How to cook Lo Mein?
Print
This easiest recipe is healthier and lower calories with more veggies than take-out. It's simple to make at home with vegetables, or your favorite meat!
Ingredients
Stir Fry:
15

ounces

Chinese egg noodles,

(450gms)

2

tablespoons

cooking oil,

(30 ml)

2

teaspoons

garlic,

minced, (10 grams)

1/2

onion,

sliced

1

cup

carrots,

slices

1

red bell pepper,

thinly sliced

1

cup

mushrooms (shiitakes, button mushrooms),

thinly sliced

3

scallions,

cut into 1 1/2 inch (4 cm) pieces

1/4

cup

water,

(65ml)

Bean sprouts
Sauce:
2

tablespoons

oyster sauce,

(30 ml)

1.5

tablespoon

soy sauce,

(25 ml)

1

teaspoon

sesame oil,

(15 ml)

1/4

cup

water,

(45ml)
Instructions
Mix the sauce- Combine all the sauce ingredients in a medium bow. Set aside.

Cook Egg noodles- Cook the noodles one minute shy of the directions and rinse in cold water.

Drain and toss with sesame oil in a bowl to coat. Set aside.

Sauté the aromatics- Heat oil in a pan over high heat until smoking.

Add the garlic and onion and cook, stirring, until light brown and fragrant, about 20 seconds.

Add mushrooms and carrots– cook 2 minute.

Add bell pepper- cook 30 seconds.

Add noodles & sauce- Toss for 1 minute.

Add green onions & bean sprouts- toss for another 1 minute until all the noodles are slick with sauce.

Serve hot as a main dish or side dish.
Video
Tips & Notes:
Calories: 236kcal     Carbohydrates: 35g    Protein: 7.6g          Fat: 6.5g Saturated Fat: 1g     Cholesterol: 0g           Sodium: 790mg     Fiber: 3.2g Potassium: 852mg  Sugar: 3g                     Vitamin A: 1140IU  Iron: 1.2mg Vitamin C: 22mg     Calcium: 20mg            Iron: 1.2mg (Nutrition information provided is an estimate and will vary based on cooking methods and specific brands of ingredients used.)
Nutrition Information:
DID YOU MAKE THIS RECIPE?
I love hearing how it turned out! Leave me a comment and make sure to leave a rating below.
More Chinese take-out recipes: